The lead generation surveys help you
rapidly identify a homeowner's intention
to buy or sell in the near future.
On average,the surveys
generate 8 leads per 1,000 calls.
Need help identifying buyers and sellers in your area?
Sign Up Now →Start my calling campaign now!
Telelisting Lead Generation Surveys Does Just That
Each day we dial hundreds of phone numbers on your behalf and screen the respondents by asking the following 4 simple questions:
Are you the owner or a tenant?
Are you planning to buy or sell a property in the next 3 months?
Are you already under contract with a real estate agent?
Would you like to receive a free estimate of your property value?
The lead generation surveys help you rapidly identify a homeowners intention to buy or sell a property in the near future. Our services are sold by geographic territories designated by zip or postal code. Each territory represents a precise number of residents contacted exclusively for you.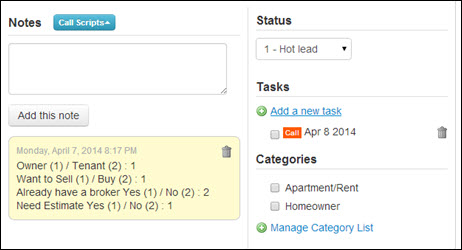 ---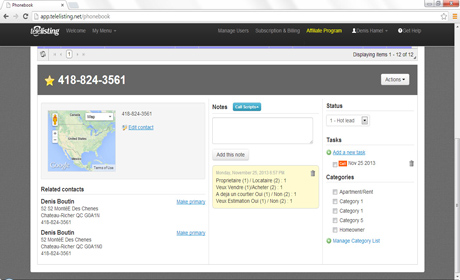 How Does It Work?
We automatically call all numbers listed in the area you choose.
We will call each number up to 2 times.
If we reach an occupant on the first call, we ask the 4 questions listed above and report the answers to you through our web site.
If we are unable to reach them on the first call, we will make a second attempts approximately 2 days later.
If we cannot reach the resident after a second call, no further attempt will be made.
Where Do I Start?
Choose An Area To Survey
In My Menu, click on Property Surveys.
You must then select an area where you want us to call on your behalf. Areas are defined by postal/zip code (first 3 digits in Canada and 5 digit ZIP in the USA).
Click the order box for each area you want to buy, then click the button Proceed to Checkout.
The survey area you purchase is exclusive to you. No one else may buy the same survey in the same area for a period of 6 months. We do not resell survey areas before 6 months, because we do not want to contact the same people asking the same questions more than twice a year.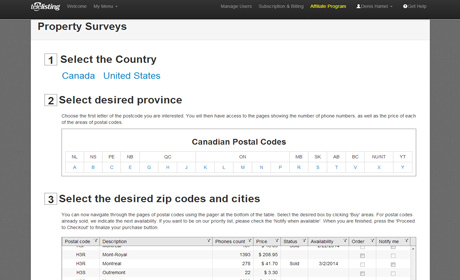 ---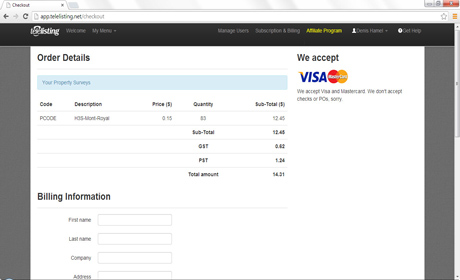 Place Your Order
You will be asked to choose if you want the survey to be in French, English or both languages and which time zone you want to be considered.
On the checkout page, complete your order by filling in all the necessary fields and click on Checkout to validate your order.
---
Let Us Do The Calls
We schedule 300 calls per day for you. This also can be adapted to your needs. But remember; if you choose an area of 1,000 residential numbers and we call 300 per night, after one week we will have completed your survey. This has no relation to the exclusivity time of 6 months which exists to protect the consumer from being overcalled.
Again, it is important to understand that during that 6 month period we will contact the occupant at a specific phone number only once. A second attempt is made only when we reach an answering machine, a busy signal or no answer on the first attempt.
We typically make calls from Monday through Friday between 6:30 p.m. and 8:45 p.m. However, you may request that calls be made on different days and at different times.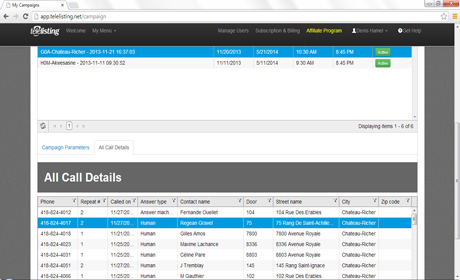 ---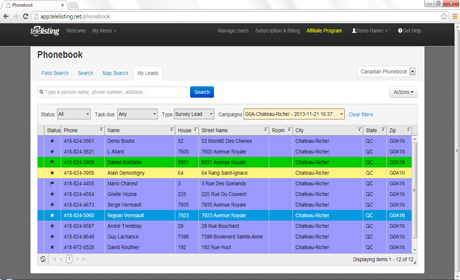 Leads Are Waiting In Your Account
If we receive new leads in your area, a notification will be sent to you via email.
Simply login to your phonebook at Telelisting and select the My Leads tab.
Then select the Survey Lead type and all or a specific campaign to access all the relevant information containing names, addresses and answers to the 4 questions of all the leads found for you.
---
The success of a Real Estate Agent is always based upon finding new potential clients. This process can sometimes be quite long and fastidious without the proper tools. Telelisting has simplified our lives and made it affordable. Thank you again Telelisting!

Éric Léger, Sutton
---